eGov Cyber Security Package
More safety for cities and communities
eGov Cyber Security Package
More safety for cities and communities
The digitalization of cities and communities already took place years ago. Today, they use complex infrastructures to easily manage their electronic data. But what about security?
terreActive has developed an eGov Cyber Security Package specifically tailored to the needs of Swiss municipalities.
Goal
The overall goal of the package is to improve the safety of communities with respect to these three risk factors: people, technology and processes.
The package is divided into three stages. Each stage pursue additional sub-goals:

Your benefit
We search for all vulnerabilities, and list those that could lead to a hacker or malware penetrating your network.
We determine the level of security awareness of your employees and show where there is potential for improvement.
We ensure through follow-up investigations that you have closed your security gaps properly.
Scope: Audits and trainings for public administration
Annual package with a duration of approx. 12 months. The package is conducted in three stages:
Stage - Detection: conducting penetration test Intrusionand a phishing simulation.
Stage - Consolidation: conducting penetration test Resilience,awareness training for employees and follow-ups to the first stage.
Stage - Completion: Conduct a second phishing simulation, retesting and verification of all vulnerabilities discovered so far.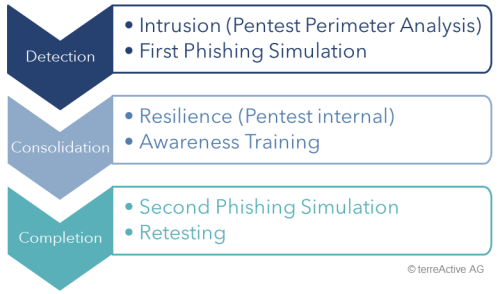 Result (Output)
For each audit and phishing simulation we will prepare a specific report consisting of the elements mentioned below. At the end of each phase, we will invite you to a meeting to present all results.
Executive Summary
Technical results and analysis
Evidence
Recommendations
Customer profile: For whom is this eGov Cyber Security Package suitable?
terreActive recommends this package to municipalities with approx. 5'000 to 10'000 inhabitants.
Of course, adaptations to size and special needs are possible.
Options to choose from
OWASP Top10(stage 1 or 2): An audit that specifically examines your critical web applications.
ICT Minimum Standard Assessment (stage 1): An audit at organizational level, specifically suitable for larger communities.
Effort
The working hours per stage depend on the customer's infrastructure.
Nevertheless, the following list should give you a rough idea for your planning.
| | | |
| --- | --- | --- |
|   | For terreActive  I  | For the customer |
| Stage 1:   | 5 - 8 days | 2 - 3 days |
| Stage 2:   | 3 - 4 days | 1 - 2 days |
| Stage 3:  | 4 - 6 days | 2 - 3 days |
| Total:       | 12 - 18 days | 5 - 8 days |
Example of a time schedule