Basic protection and structural cyber defense
Our Cyber Security Readiness offering is based on the widely used basic IT protection methodology of the German Federal Office for Information Security (BSI). The goal of the methodology is to achieve a medium and sufficient level of protection for IT systems. As much as necessary, as simple as possible.
For whom is this offer suitable?
For companies that are primarily technically oriented and want to upgrade to a similar level of protection as is common in their industry,
without becoming overachievers themselves.
For companies that are new to the topic and want to achieve initial results quickly.
For what will we take care of?
terreActive designs the level of protection and takes over the maintenance together with the customer.
Establishment of basic protection and security concept.
Creation of material such as directives and policies.
terreActive takes the role of a coach and shows the way.
Quick start with distributed effort
The SPOC from the client works closely with terreActive and takes over the internal coordination.
terreActive shows the way, acts proactively, creates material and takes the role of a coach.
The SPOC ensures internally that the new knowledge is passed on.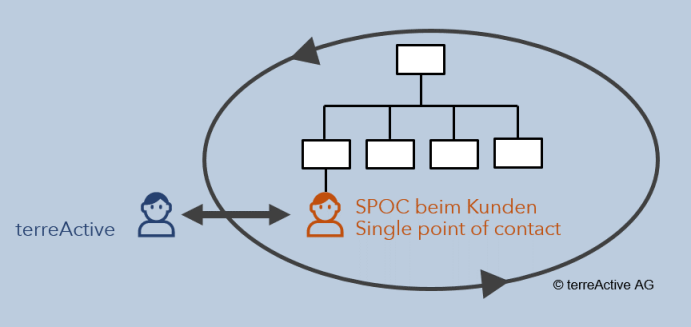 With cyber security readiness, the customer defines a security officer in his company. This person takes over the internal supervision of cyber security and is equipped with the corresponding competencies.
terreActive establishes the basic protection with the customer's security officer and supports him proactively. Thus, on the one hand, an efficient and cost-effective supervision of the cyber security can take place, on the other hand, an active transfer of know-how from the experts of terreActive to the security team of the customer takes place. In this way, the customer is enabled over time to take over more and more activities himself.